John W. Stone II was born on New Years Day, 1970, in the town of Trenton, MI. He passed away on October 3, 2001. He was a devoted husband, father of 3 and business- man. He valued time with his family, time with his friends and comedic genius from which his jokes and compassion were unrelenting. He was preceded in death by his father, William E. Stone II, (1998) and no one will ever fully know the degree of loss he experienced in having to deal with the untimely and quite unexpected passing. He graduated from Manchester High School in 1990. He was fond of all types of sports, including baseball, football and many others. He was literally inseparable from his children and they enjoyed many activities

John had many hobbies including carpentry, outdoor activities and cars of all types, both repairs and driving. He had several close friends in his life and they sorely miss him.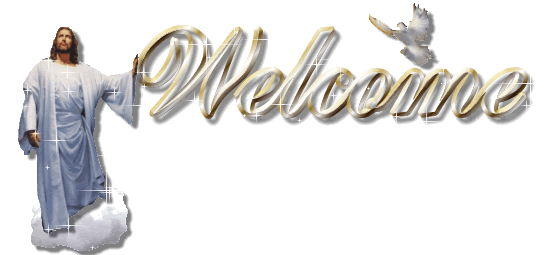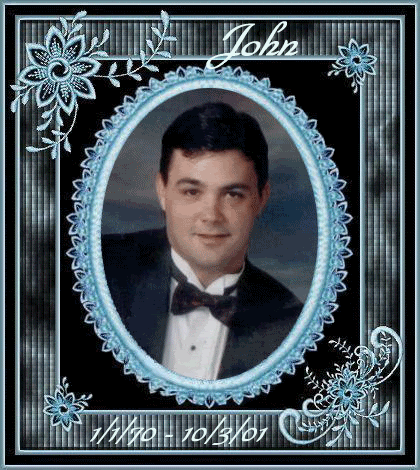 Thank you for visiting


Please light a candle before you go.
Kayla Stone (daughter)

I found this poem and I really love it and I hope you like it....

Daddy's Little Girl

Her hair up in a pony tail, her favorite dress tied with a bow
Today was Daddy's Day at school, and she couldn't wait to go.
But her mommy tried to tell her, that she probably should stay home
Why the kids might not understand, if she went to school alone.

But she was not afraid; she knew just what to say
What to tell her classmates, on this Daddy's Day.
But still her mother worried, for her to face this day alone
And that was why once again, she tried to keep her daughter home.

But the little girl went to school, eager to tell them all
About a dad she never sees, a dad who never calls.
There were daddies along the wall in back, for everyone to meet
Children squirming impatiently, anxious in their seats.

One by one the teacher called, a student from the class
To introduce their daddy, as seconds slowly passed.
At last the teacher called her name, every child turned to stare
Each of them were searching, for a man who wasn't there.

"Where's your daddy at?" she heard a boy call out
"She probably doesn't have one," another student dared to shout
And from somewhere near the back, she heard a daddy say
"Looks like another deadbeat dad, too busy to waste his day."

The words did not offend her, as she smiled at her friends
And looked back at her teacher who told her to begin.
And with hands behind her back, slowly she began to speak
And out from the mouth of a child, came words incredibly unique.

"My daddy couldn't be here, because he lives so far away.
But I know he wishes he could be with me on this day.
And although you cannot meet him, I wanted you to know.
All about my daddy and how much he loves me so.

He loved to tell me stories, he taught me to ride my bike
He surprised me with pink roses, and taught me to fly a kite.
We used to share fudge sundaes and ice cream in a cone
And though you cannot see him I'm not standing alone.

Cause my daddy's always with me, even though we are apart
I know because he told me, he'll forever be in my heart."
With that her little hand reached up, and lay across her chest.
Feeling her own heartbeat, beneath her favorite dress.

From somewhere in the crowd of dads, her mother stood in tears
Proudly watching her daughter, who was wise beyond her years
She stood up for the love of a man not in her life
Doing what was best for her, doing what was right.

When she dropped her hand back down, staring straight into the crowd
She finished with a voice so soft, but its message clear and loud.
"I love my daddy very much, he's my shining star
If he could he'd here but Heaven's just too far.

Sometimes when I close my eyes, it's like he never went away."
Then she closed her eyes, and she saw him there that day.
To her mother's amazement, she witnessed with surprise
A room full of daddies and children, all starting to close their eyes.

Who knows what they saw before them, who knows what they felt inside
Perhaps for a second, they saw him by her side.
"I know you're with me Daddy," to the silence she called out
What happened next made believers, of those once filled with doubt.

No one in the room could explain it, for each of their eyes had been closed
But there placed on the desktop, was a beautiful fragrant pink rose.
A child was blessed, if only for a moment, by the love of her shining star.
And given the gift of believing, that heaven is never too far.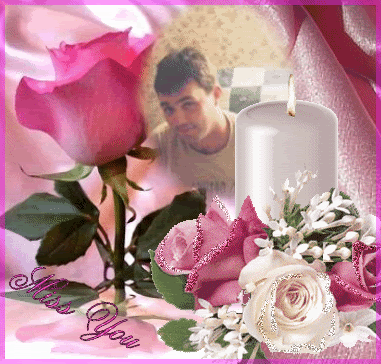 This poem was written by Cheryl Costello-Forshey and I thank her
every word in it. Every word relates to me and my Dad. We didn't only
share sundaes, we shared our love for junk food, old movies and Johnny
Cash. Which he rocked me to sleep with when I was a baby. Maybe
that's the reason I love it. xoxoxox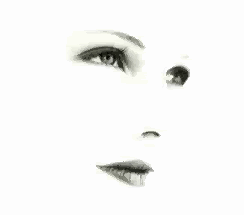 Your resting place I visit
Place flowers there with care
But no one knows the heartache
When I turn and leave you there
A million times I've needed you
A million times I've cried
If love could have saved you
You never would have died.
It broke my heart to lose you
But you did not go alone
For part of me went with you
The day God called you home.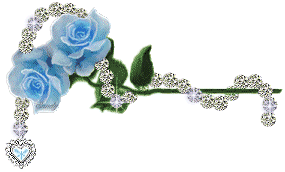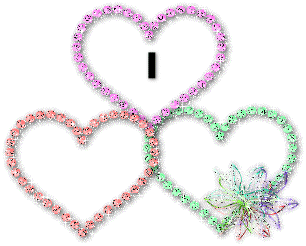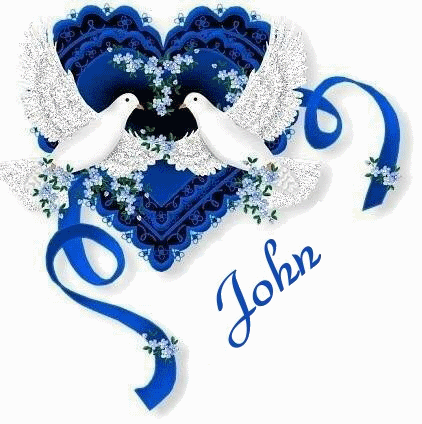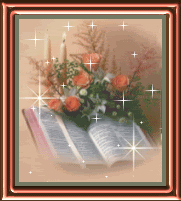 May this candle burn forever in loving memory of you.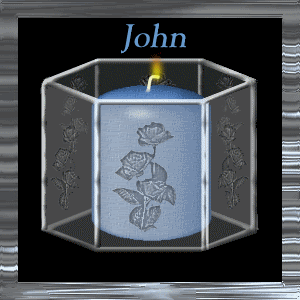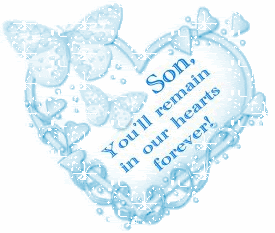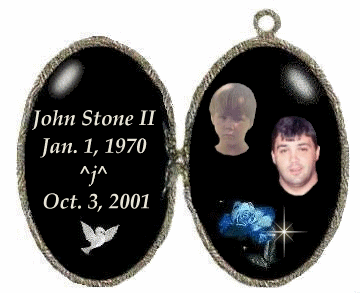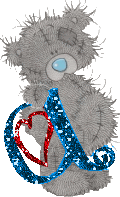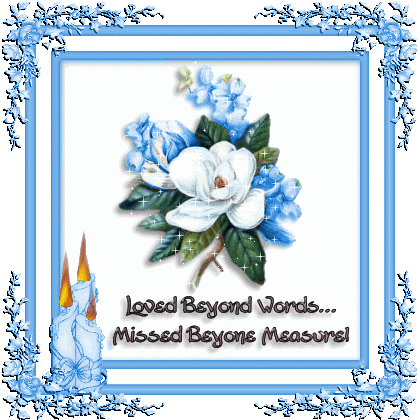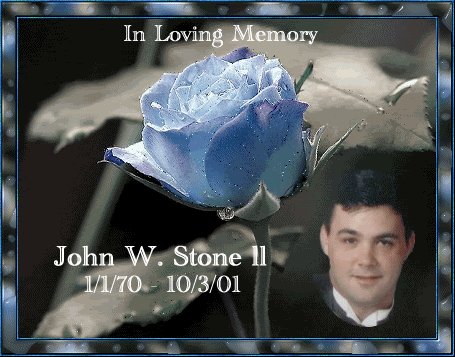 A Poem For Bo

When I fell asleep last night
Everything seemed the same
But this morning I sat up suddenly
For I heard you call my name

I deliberately went back to sleep
Hoping I'd dream and know
What you were about to say to me
Could it have been,"I love you so?"

Did you know when you left that day
Just what your absense would do?
That although you were the one who died
My life was over too!

Did you also know that our son John
Was soon to follow you?
Can you imagine the pain I felt
As I did what I had to do?

The only comfort I could find
Was knowing he was there with you
And knowing I would see him again
Would simply have to do.

I can't describe the loneliness
I feel since you are gone
But I know it compares to the tragedy
Of losing my first-born son

We often say we would turn back the years
In order to live them again
But knowing my future would be full of tears
Could only double my pain

I wouldn't bring you back to me
For I know your in Heaven above
Your happiness is without measure
Living with God in His love

So I hope you see the tears I cry
As I wait to join you there
Please know they are real and from my heart
Please know how much I care

I hope it won't be very long
Until we're together once more
Never to have to part again
That's what "FOREVER" is for.

Until that day please wait for me
I must stay here awhile
To watch our grandchildren grow strong and tall
I know they make you smile

I know they'll find our Lord one day
And they'll know what they have to do
In order to have eternal life
And live there with me and you.

There will be no more pain or lonely days
And no more death to dread
No aching hearts, no worried minds
And no more tears to shed

So honey when I lay down tonight
In hopes I'll dream of you
I hope that I'll sleep enough
To answer, "I love you too"

LOVE YOU ALWAYS....GLENDA